Top 5 worst US cities for traffic
Looking to get somewhere in 15 minutes? It's not likely in one of these five US cities. The Texas Transporation Institute's (TTI) 2009 Urban Mobility Report, a national report using data from 2007, documents the annual number of hours motorists spent stuck in traffic. ABC News reported that the total amount of time Americans wasted in traffic in 2007 from the TTI study was 4.2 billion hours. That works out to nearly one full work week, or vacation week if you want to look at it that way, for every traveler. Some cities saw some traffic improvements.
But if you're planning to move to one of the top 5 worst US cities for traffic, you might want to stock up on your books on tape, travel snacks, and invest in satellite radio – chances are you'll be spending some "quality" time in your car.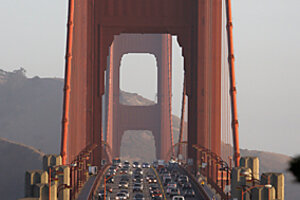 Eric Risberg/AP/FILE
5.

San Francisco, Calif.

The Golden Gate City's drivers spent 55 hours stuck in traffic in 2007. San Francisco actually saw a drop in annual hours of delay from 58 to 55 from 2006 to 2007. Forbes puts the worst bottleneck in the San Francisco-Oakland area at Interstate 238 Northbound at Calif. 185/14th St. and Mission Blvd. And travelers will go an average of 19.6 miles per hour in traffic congestion. Seismic upgrades and repairs to the area's Bay Bridge, forcing its closure, increased traffic woes in the fall of 2009 as commuters had to seek alternate routes to San Francisco.