Top five movie trends and surprises of 2010
Movies both disappointed and surprised studios and audiences in 2010. Star power dimmed while real-life stories turned both dramatic and documentary features into unexpected hits. And technology wowed, then disappointed as 3D and high-profile sequels fizzled at the box office. The top trends from this year present a very mixed bag heading into the second decade of the new millennium, says Hollywood.com box office analyst Paul Dergarabedian.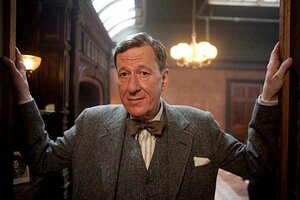 Laurie Sparham/The Weinstein Company/AP
1.

'Based on a true story'

Hollywood has leapt into real-life stories with a vengeance, says Mr. Dergarabedian. Just look at the slew of end-of-year films based on real people and their stories. From "The King's Speech" to "127 Hours," "The Social Network," and "The Fighter." These are all meaty dramas targeted squarely at the upcoming awards season. All of them are being discussed in the same breath as next year's Golden Globes and Academy Awards, not to mention the plethora of smaller statuettes being handed out over the next few months.

"It's clear that audiences are tired of bad fiction and terrible news," says filmmaker Michal Abney, who adds that after so many big budget films that have faltered over the past few years, "Hollywood is finally picking up on the reality that audiences want something authentic that will uplift and inspire them to watch." Most of these films, he adds, focus on the triumph of the human spirit over great personal adversity or creative challenge.