Which US cities ban smoking in public parks? Here are five.
New York City lawmakers voted Feb. 2, 2011 to ban smoking outdoors in public parks, public beaches, and even Times Square. The Big Apple is the latest major US city to prohibit smoking in parks and other public spaces, adopting laws that are tougher than its home state's. Such laws are a boon to public health and reduce litter in urban parks, say supporters. Critics say they are yet another instance of "big government" encroachment on personal freedoms and are almost impossible to enforce.
In all, almost 500 cities, counties, and towns have banned smoking in public parks. Here are five big cities that have done so.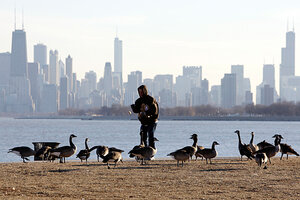 Nam Y. Huh/AP/File
1.

Chicago

The Chicago Park District, which manages Chicago's parks and 26 miles of lakefront, banned smoking at beaches and playgrounds in 2007. Violators can be fined $500 if caught smoking in either of those venues. In part, the ban is intended to keep bacteria-bearing litter (i.e., cigarette butts) out of recreational waters so that swimming areas can remain open. The park district tests Lake Michigan water five times a week in summer and posts the results.