In Elizabeth Taylor, a remarkable blend of beauty and tenacity
Elizabeth Taylor's early roles featured only her beauty, but her career – and her fearless embrace of controversial issues – matured until she won three Oscars, including one for humanitarian work.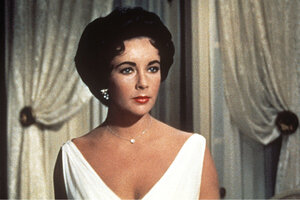 g90/ZUMA Press/Newscom/File
The violet-eyed grande dame of classic Hollywood, Dame Elizabeth Taylor died today in Los Angeles. The British-born child actor who landed her first studio contract at age 9, Ms. Taylor knew the power of beauty in a movie town from her earliest moments in the business. Those famously exotic eyes – framed by dark, double lashes – won her a film role over the objections of a studio production chief who said, "She can't sing, she can't dance, she can't perform."
But the years proved that beauty was only one of her many assets. After winning international acclaim at age 12 with her performance in "National Velvet," she went on to win two Academy Awards – one for her role as a call girl in "Butterfield 8," and the other as the biting Martha in the film adaptation of the Edward Albee play, "Who's Afraid of Virginia Woolf?"
"Taylor was always hampered by – shall we say – those who were overwhelmed by her remarkable beauty," says Louis Giannetti, emeritus professor of film at Case Western Reserve University and the author of two of the most widely-used film-studies textbooks, "Understanding Movies" on film and "Flashback" on the history of film. "She was actually quite a wonderful natural actress," he says, "with the natural ability from a very early age to tap into deep, and very real emotions."
Nonetheless, she had to fight for meaty roles. Early in her career, she played a string of forgettable lightweight ingénues as the studios capitalized on her looks. Her private life also became fodder for tinseltown tabloids. "She was one of those flamboyant personalities whose private life competed with her professional skills for the public's attention," Professor Giannetti notes. She was married eight times to seven husbands – she wed Richard Burton twice –primarily because, as Giannetti points out, "She was old-fashioned and did not believe in pre-marital relations, so she simply married all her boyfriends."
Taylor achieved some industry firsts. She was the first woman to earn a million-dollar payday for her turn as the tempestuous Cleopatra in 1963, the role that introduced her to what many consider her true love, Welsh actor Richard Burton. In 1985, she became one of the first major celebrities to champion HIV-AIDS, a cause close to her heart. "This was before this sort of activism was fashionable in Hollywood," says Villanova University Professor Susan Mackey-Kallis, author of "The Hero and the Perennial Journey Home in American Film." She adds that this was one of Taylor's great qualities, a natural fearlessness that led the way for that particular issue to come out of the shadows. It also brought Taylor her third Oscar, the Jean Hersholt Humanitarian Award, in 1994.
"We have many modern examples of celebrities trotting the globe doing good works," Professor Mackey-Kallis says, adding that this is a good thing. But Taylor "was very much ahead of her time in taking up such an important issue when nobody else was talking about it."
The American Film Institute has ranked Taylor seventh on its list of the top 25 female film legends. (Clark Gable occupies that slot on the men's list.) Taylor's career tapered off in the last few decades of her life. Her last movie role was an extended cameo in "The Flintstones" in 1994, points out film historian and Fandango movie site spokesman Harry Medved, who adds that "A Little Night Music" in 1977 was her last significant movie role.
One of only five actors ever to achieve four consecutive Academy Award nominations for performance in a leading role, Taylor was first nominated in 1958 for "Raintree County," and then for "Cat on a Hot Tin Roof," then "Suddenly, Last Summer," and finally for "Butterfield 8," for which she finally took home the award.
"She was one of our last living connections to Hollywood's Golden Age," writes Mr. Medved in an email. "A few others like Mickey Rooney are still alive, but he did not have the decades-long box office power of Liz Taylor."
Plagued with lifelong health challenges, she continued to use her power as a media icon to draw attention to a cause. After her head was shaved for a brain tumor operation, she displayed her naked pate in public. She was quoted as saying that she hoped "people would gain courage from my struggle and not give up."