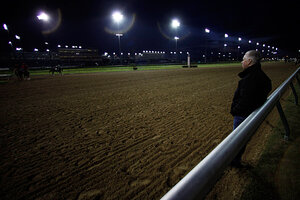 Charlie Riedel/AP
2.

Iron Liege wins, with help from a mistake (1955)

Iron Liege wasn't supposed to compete in the Kentucky Derby, much less win it. He was entered in the Derby after another horse was injured days before the race. Iron Liege ended up performing well, but it's unlikely he would have won had it not been for a jockey's mistake.

In the home stretch, Iron Liege was leading, but momentarily lost his first place position to Gallant Man. Gallant Man's jockey, Willie Shoemaker, mistakenly thought he had crossed the finish line, and stood up in celebration. By the time Shoemaker discovered his mistake, it was too late. Gallant Man had lost his momentum and was soon retaken by Iron Liege, who won by a nose.