Joplin tornado: How you can help
Here's a list of a some of the major charitable agencies assisting those affected by the May 22 tornado in Joplin, Mo. and where you can send donations.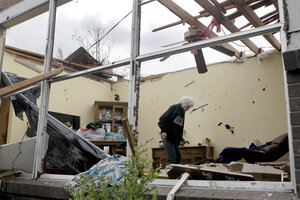 Jeff Roberson/AP
AmeriCares
88 Hamilton Avenue
Stamford, CT 06902
tel: (800) 486-4357
website: http://www.americares.org
Donate directly here
What's being done: working with clinics, shelters and healthcare providers in Joplin and Springfield, Mo.
--
Convoy of Hope
330 South Patterson Avenue
Springfield, MO 65802
tel: (800) 988-0664
website: http://www.convoyofhope.org/
Donate directly here
What's being done: delivery of truckloads of in-kind donations of shelter supplies, free telephone stations, food and water, and more
--
The Food Bank for Central & Northeast Missouri
2101 Vandiver Drive
Suite B
Columbia, MO 65202
tel: (800) 764-3663
website: http://www.sharefoodbringhope.org
Donate directly here
What's being done: accepting donations of funds and food, organizing volunteers in the Joplin area
--
Habitat for Humanity International
121 Habitat Street
Americus, GA 31709
tel: (800) 422-4828
website: http://www.habitat.org
Donate directly here
What's being done: Providing building materials and organizing volunteers to provide shelter assistance and rebuild homes
--

American Red Cross
2025 E Street, NW
Washington, DC 20006
tel: (800) 733-2767
TTY: (800) 220-4095
Mail donations to:
P.O. Box 4002018
Des Moines, IA 50340
website: http://www.redcross.org/
Donate directly here
What's being done: providing emergency responders, volunteers, supplies for recovery, shelter and comfort