Will and Kate visit L.A.: Locals' top 10 southern California must-sees
Royal newlyweds William and Kate have a busy, business-first itinerary for their three-day visit to southern California, which begins Friday. If they had asked us, we'd have given them these 10 tips for how to savor the SoCal experience. For every obvious tourist gambit, we've thrown in some insider info about where to pan for the best Angeleno cultural gold.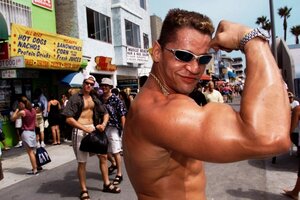 Robert Harbison / The Christian Science Monitor / File
1.

Venice Boardwalk

A wide cement path along the Pacific sand, stretching from the Santa Monica Pier south to the Marina Del Ray boatway.

"If they really want to know America, they should go to Venice Beach," says Becki O'Neifra, a former school teacher, at a Sherman Oaks coffee shop. She lists off the attractions there: Muscle Beach, cafés, roller-skate dancing, paddle tennis, and an over-the-top parade of bohemian humanity that includes mimes, musicians, comedians, artists, and jugglers.

"I want to see their faces when they watch a man juggle a running chain saw while eating an apple," says Ms. O'Neifra.