Mardi Gras: a guide to five of the biggest New Orleans parades
Krewes are the backbones of the Mardi Gras season in New Orleans. They're overgrown social clubs, sometimes controversial, always fun-loving, whose gaudy, trinket-throwing parades draw thousands of visitors to the Big Easy. While there are more than 80 official krewes, a handful have emerged as super krewes, whose intricate floats and outrageous costumes become instant lore. Technically, there are only three super krewes, but a couple of others fit the description, too.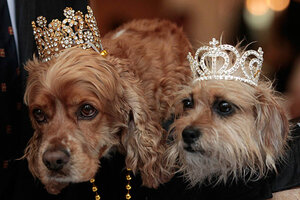 Gerald Herbert/AP
1.

Krewe of Bacchus

Until the late 1940s, the carnival in New Orleans was less open to outsiders, with often-exclusive social clubs staging private balls after the street festivities. But then bar owner Owen "Pip" Brennan Jr. decided to innovate by staging celebrations open to tourists – giving shape to the modern Mardi Gras.

Though staging only two events before Mr. Brennan's death in 1955, the Krewe of Bacchus was revived in 1968. Members constructed massive floats, distributed more than a million strings of bead, and broke with carnival tradition by inviting a celebrity king, the first being Danny Kaye.

This year's Krewe of Bacchus starts Sunday at 5 p.m. in Uptown. This year's king is former "Saturday Night Live" star Will Ferrell.