Javascript is disabled. Quiz scoring requires Javascript.
What is your social class? Take our quiz to find out!
How do you feel about gospel music? Pedestrian crosswalks? Humanity in general? Your social class is more complex than your salary or your educational pedigree.
This quiz is based on polling data and peer-reviewed research from an array of academic fields which have explored how socioeconomic status helps shape our inner and social lives.
No data set, of course, can account for all of the experiences that make your perspective unique, and some of these questions will reflect your own circumstances more precisely than others – but answer all of them as well as you can.
Be honest, and enjoy!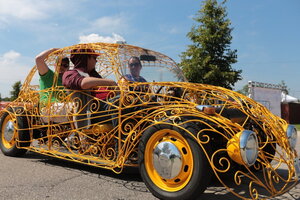 Ryan Garza/AP/Detroit Free Press
1. Think of a vehicle that really appeals to you – maybe a specific car, boat, or bike you've seen. Now imagine (or remember) finally getting one of your own. The next day, you learn that a friend has treated herself to the same new toy. How, in all honesty, do you feel?
possibly a little annoyed
flattered – we can take them out together!