Transgender teen will not return to school after bathroom suspension
The teen's mother has requested that the school reverse's its policy in what may be the first test of a federal court ruling earlier this month that declared barring transgender students from using the bathroom of their choice to be a violation of Title IX.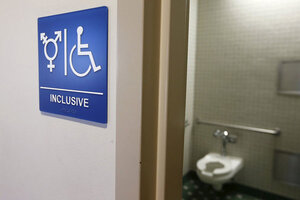 Lucy Nicholson/Reuters/File
Teachers don't typically follow students when they take a bathroom break from a pep rally. But that's just what happened when a student at Socastee High School in Horry County, S.C., had to use the bathroom in January.
Because of that bathroom trip, the student was suspended for using the boys' bathroom, which he had been using since the seventh grade, he says. And now the student and his family are fighting for the school district to change their policy.
When that teacher trailed the student to the bathroom, she wanted to make sure he used "the right one," he told CNN. That's because this student is transgender. 
The student and his family are petitioning the school district to pass a policy allowing students to use the bathroom that befits their gender identity rather than the sex they were assigned at birth. Thus far, the district has handled each school and student on an individual basis. 
The Transgender Law Center has threatened Horry County Schools with legal action in support of the family's efforts. In a letter to the district, the center also asked that the suspension be removed from the student's record.
"A lawsuit is a big deal. I just hate to go that route," the student's mother, who asked to go by Lynne, told WTVM. "I'd just rather sit down at a table and negotiate."
But they might have a strong case. 
If it comes to a lawsuit, center officials could file a complaint with the Department of Education on the grounds that this suspension violates Title IX. 
"Title IX protects people from discrimination based on sex in education programs or activities that receive Federal financial assistance," according to the US Department of Education.
Title IX is also the basis for a ruling last week in the US Court of Appeals for the Fourth Circuit. That court ruled 2 to 1 that a school board violated Title IX by banning a transgender high school student in Virginia from the boys' bathroom.
This South Carolina case could be the first test of that decision.
The student, who is identified as R., began to use the boy's bathroom in middle school after his family spoke with school administrators. In fact, that discussion followed complaints by girls of his using the girls' room. The student had begun wearing clothes purchased from the boys' section by seventh grade.
R. used the boys' room with no incidents until school administrators changed their minds during his high school senior year. Then, he said, he was told he had to use the girls' bathroom or the nurse's bathroom. 
But the nurse's bathroom is on a different floor from most of his classes, so a bathroom trip took about 10 minutes out of his class time, he said. Sometimes he would use the boys' room to save time.
After the teacher saw him walk into the boys' bathroom on the day of the pep rally, R. was suspended for one day. 
But R. and his family decided that he wouldn't return after that suspension. Instead, he enrolled in online classes to avoid being "outed" in a community he had lived in as a boy for years.
Since the school administrators mandated that he use the girls' room, some teachers began using female pronouns for R., according to the Transgender Law Center Letter, CNN reports. R. began suffering panic attacks at school.
"It's a very dangerous thing when we create these kinds of policies and laws intended to single out transgender people. They have the effect of policing everyone and placing gender under scrutiny," Ilona Turner, legal director of the Transgender Law Center, told CNN. "Anyone who walks into a women's restroom who has short hair or appears less than totally feminine may have the police called on them or asked for their birth certificate."