Maria Sharapova moves into US Open 3rd round, where she will meet Beatrice Capra
Maria Sharapova is a former US Open champ who seems to enjoy the bright lights of New York. Maria Sharapova is about to play an up-and-coming phenom in 18 year-old Beatrice Capra Saturday in the tournament's third round.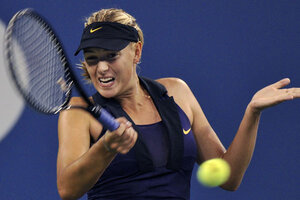 Ray Stubblebine/Reuters
Not that long ago, Maria Sharapova was one of the fresh faces on the women's professional tennis circuit. Now, three-quarters of the way to a career Grand Slam, Sharapova finds herself an upset target of up-and-coming players on tour.
The 14th-seeded Sharapova defeated Iveta Benesova, 6-1, 6-2, Thursday night. Next up for the 2006 US Open ladies champ will be 18 year-old Beatrice Capra, who had to win a playoff just to get into the Open.
Capra, who trains at the Evert Academy in Florida, upset 18th seed Aravane Rezai of France, 7-5, 2-6, 6-3, on Thursday to advance. Capra looks at Sharapova as a role model. "I know she's just such a tough competitor," she told the Associated Press. "You know, when I was younger, I used to always look up to her, and so I think it will be a really good match for me to see where I am compared to that kind of level."
It should be a fun match to watch. The US Open continues during the Labor Day weekend and will conclude on Sept. 12th.