Michael Vick, reviled for dogfighting, returns as Eagles starting QB (VIDEO)
Michael Vick has spent time in prison for putting on dogfights. After 21 months behind bars, the Eagles are now paying Michael Vick to lead Philly to a victory over Detroit this Sunday.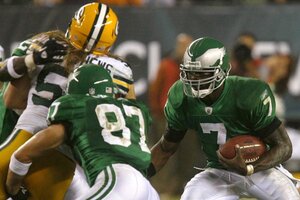 Tim Shaffer/Reuters
The Eagles, coming off a home loss last week to Green Bay, are desperate to get on the winning track in week two of the young NFL season. Following Donovan McNabb's trade to the Redskins and Kevin Kolb's injury, Michael Vick will be Philly's starting quarterback against the Lions on Sunday.
It's been quite a road back for the former Virginia Tech star, who led the Falcons to the NFC championship game in 2005, only to see his life and career derailed by a dogfighting scandal. Since his release from Leavenworth, Vick had kept himself out of trouble until this summer, when a shooting took place at a birthday party thrown for him.
Last week, he showed flashes of his old self, coming off the bench against the Packers. For more flashes, check out this video:
Recommended:
Michael Vick on the Web: protests, misspellings
Vick ran for over 100 yards vs. Green Bay and was 16-of-24 for 175 yards and a touchdown through the air. Eagle fans can only hope they see more of that leading to the first Philly win of the year this Sunday in Detroit.