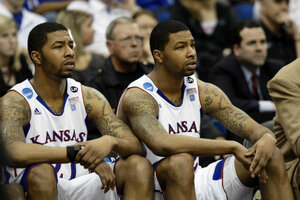 Bill Waugh/Reuters
2.

Southwest Region (at San Antonio, Friday, 7:27 p.m. ET): (12) Richmond vs. (1) Kansas

Richmond beat: (5) Vanderbilt, 69-66; (13) Morehead State, 65-48
Kansas beat: (16) Boston U, 72-53; (9) Illinois, 73-59
Winner plays: winner of (11)Virginia Commonwealth vs. (10) Florida State

The lowest seed in the round of 16, Richmond is no stranger to over-performing in the tournament. In 1991, they became the first-ever No. 15 seed to knock off a No. 2 seed when they beat Syracuse, 73-69. They also toppled No. 3 seed South Carolina as a No. 14 seed in 1998. This year, they beat Vanderbilt on senior guard Kevin Anderson's solid performance (25 points, 4 assists, and a steal) and good bench play (23 points by the reserves).

For its part, aside from a slow start against BU, Kansas has looked like a No. 1 seed in its first two games. Twin junior forwards Marcus (6 ft. 9 in.) and Markieff (6 ft. 10in.) Morris combined for 72 points and 41 rebounds in the second and third rounds.