Five times the NCAA meted out a 'death penalty.' Will Miami make six?
With Nevin Shapiro's allegations from behind bars that he lavished millions of dollars in goodies on University of Miami football player over eight years, in violation of NCAA rules, chatter intensified in print and online about whether Miami might suffer the worst punishment the NCAA can dish out. Unofficially known as the 'death penalty,' it eliminates the offending sports program from competition for one season (and sometimes more). It has been meted out to only five schools.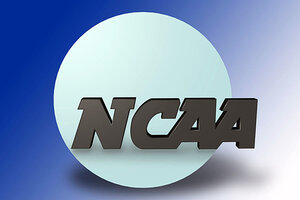 KRT/Newscom/File
1.

University of Kentucky, 1952-53

Basketball stars Alex Groza, Ralph Beard, and Dan Barnstable were arrested for taking payments from gamblers in a point-shaving scandal during the 1948-49 season, when Kentucky won its second straight national title. An NCAA investigation found that the UK basketball program had paid players and that coaches had knowingly allowed athletes who were academically inelligible to compete. The Southeastern Conference first banned Kentucky from competition for a year, and the NCAA followed suit.
Unlike subsequent instances of the death penalty, the entire University of Kentucky athletic program was barred from competition for the 1952-1953 season, not just the offending basketball team.