From Wilt Chamberlain to Jeremy Lin: 10 NBA 'firsts'
Be honest.
Until "Linsanity," did you know that there was a National Basketball Association record for the most points scored in a player's first five career starts?
If you didn't, join the crowd. That's the kind of record that is buried in the statistical weeds. Until someone like Jeremy Lin, the latest New York Knicks phenom, comes along, such records and "firsts" are so esoteric as to be invisible.
By contrast, there are iconic records that fans can recite in their sleep. One of the greatest of these – Wilt Chamberlain's 100-point game – celebrates its golden anniversary Friday (March 2).
Wilt's mega scoring outburst is right up there with Joe DiMaggio's 56-game hitting streak when it comes to its presumed unbreakability.
While impressive, Lin's five-game, 136-point run, which broke Shaquille O'Neal's 20-year-old record of 129 points, doesn't feel nearly as invincible. And certainly it's not as appealingly simple as the memorable round number Wilt attained in a single game.
The golden anniversary of Chamberlain's 100-point effort, therefore, seems the perfect opportunity to examine 10 NBA firsts, starting, naturally, with Wilt's game for the ages.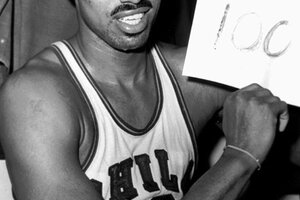 PAUL VATHIS/AP
1.

The first NBA player to score 100 points in a game: Wilt Chamberlain

One of the gaudiest numbers ever posted in any professional sport at any time, ironically, was recorded in a game played in Hershey, Pa. Wilt's Philadelphia Warriors played a few of their "home games" in Hershey in 1962 to widen their fan base, but this was such a meaningless regular-season game that there were only two photographers at the game and no TV coverage or film footage. As a result, the game visually remains mostly a blank.

Chamberlain had been an almost unstoppable offensive force since entering the NBA during the 1959-60 season, when he became the first and only rookie to ever lead the league in scoring, with a 37.6-points-per-game average. The 1961-62 season was the high-water mark of his career offensively, as he averaged 50.4 points throughout the entire season. In Wilt's 100-point game, interestingly enough, he was hardly the only Warrior to score. Philadelphia beat the lowly Knicks, 169-147, and this was before the 3-point basket. Chamberlain's field-goal shooting percentage was only a mediocre .511 (36-for-63), but his free-throw accuracy – normally a weakness of his game – was spectacular, as he made 28 of 32 foul shots.