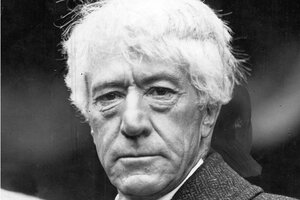 Baseball Hall of Fame
1922

Top hitter: George Sisler (St.L. Browns), .420 avg.

Top slugger: Rogers Hornsby (St.L. Cardinals), 42 HRs

Top pitcher: Eddie Rommel (Philadelphia A's), 27 wins

NL MVP: none selected

AL MVP: George Sisler (St.L. Browns), 1B

World Series: New York Giants defeat the New York Yankees, 4-0, with one tie.

Pitcher Charlie Robertson of the Chicago White Sox became the first major leaguer in the 20th century to toss a perfect game, shutting down the Ty Cobb-led Tigers in Detroit. It was also just the fifth perfect game ever, and the last until Don Larsen turned the trick for the Yankees in the 1956 World Series. Oddly, Robertson never had a season with a winning record, but the perfect game, in only his fifth career start, flashed his unrealized potential. Arm troubles hindered his career thereafter until he finally bowed out of the game in 1928 with an overall mark of 49-80.

The Philadelphia Phillies and the Chicago Cubs played the highest-scoring game in major-league history on Aug. 25, with the Cubs finally prevailing in nine innings, 26-23. Given the 49 runs, there weren't all that many hits (51), but 23 walks and 10 errors contributed to the scoring. The Phillies decided not to waste their bullpen when they fell way behind early and only used only two pitchers in the game. The score actually could have been considerably higher, since a total of 25 runners were left on base.

The National League was without a player-manager for the first time since 1900. By 1930 player-managers had disappeared from both leagues, but a scattering of them have been hired in the postwar era, the last being Pete Rose, who did double duty with Cincinnati from 1984 to 1986.

Despite compiling a .401 batting average, Ty Cobb was not the American League batting champion. That honor went to George Sisler of the St. Louis Browns who easily surpassed Cobb with a .420 average. That was the highest average ever achieved by a left-handed hitter in the AL.

Major league baseball's long-held antitrust exemption was conferred in 1922 when the US Supreme Court ruled in favor of the National and American Leagues in a lawsuit brought seven years earlier by the rival Federal League. Before reaching the Supreme Court, US District Judge Kenesaw Mountain Landis had ruled for the defendants, who were accused of monopolizing star players. Landis, a Cubs fan, was named the sport's commissioner in 1920, after the Federal League had gone out of business. The high court did not consider baseball in violation of interstate commerce statutes and it remains the only professional team sport in the US with an antitrust exemption.