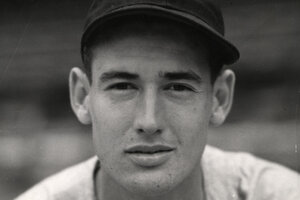 Baseball Hall of Fame
1942

Top hitter: Ted Williams (Boston Red Sox) .356 avg.

Top slugger: Ted Williams (Boston Red Sox) 36 HRs

Top pitcher: Mort Cooper (St.L. Cardinals) and Tex Hughson (Boston Red Sox), 22 wins

NL MVP: Mort Cooper (St.L. Cardinals) P

AL MVP: Joe Gordon (NY Yankees) 2B

World Series: St. Louis Cardinals defeat the New York Yankees, 4-1.

Boston manager Joe Cronin fined Ted Williams $250 for his half-hearted batting efforts in a game on July 22 and warned that any further loafing would result in an indefinite suspension. Williams apologized for giving less than his best after fans booed him. "Joe did the right thing in taking me out of the game," Williams said of Cronin's response. "I'm just childish enough and thick-headed enough and screwy enough to let those wolves in left field get under my skin." Despite this tantrum, Williams was generally a picture of total concentration at the plate and won the first of his two batting Triple Crowns this season.

Boston Braves pitcher Jim Tobin, who had received poor run support in his recent starts, hit three consecutive home runs to aid his own cause on May 13 and earn a 6-5 win over the Chicago Cubs. No pitcher since the 1800s had ever produced such a slugging display. What's more, he belted a pinch-hit homer in Boston's previous game. Tobin also factored into another of the season's headline moments, drawing a third-inning walk that was the only thing to mar Cincinnati pitcher Clyde Shoun's otherwise perfect game.

The New York Yankees turned seven double plays in one game, a major league record, in a 11-2 win over the Philadelphia Athletics. Two of the DPs were credited to catcher Bill Dickey, who threw out runners attempting to steal after the batter struck out.

Lennie Merullo, the shortstop for the Chicago Cubs, had a nightmarish inning against the Boston Braves in which he committed four fielding errors, the most-ever in a single frame. It's conceivable that his miscues may have stemmed from a major mental distraction, namely news that his wife had gone into labor with the couple's first child. The son was nicknamed "Boots" because of his dad's botched plays. Boots wound up playing in the Pittsburgh Pirates' organization. Grandson Matt Merullo was a catcher in the majors between 1989 and 1995. Lennie Merullo is one of only two former Cubs still living who played in the 1945 World Series, the other being Andy Pafko.

Little more than a month after President Roosevelt declared war on Japan, he sent what has come to be known as the "green light letter" to Baseball Commissioner Kenesaw Landis. In what FDR said was a "personal and not an official point of view," he said it would be best for the country to keep baseball going. The president felt baseball could provided welcome recreation for hard-working Americans and encouraged more night games because "it gives an opportunity to the day shift to see a game occasionally." The owners decided that each team could play 14 night games, with the exception that the Washington Senators could play 21 games under the lights.