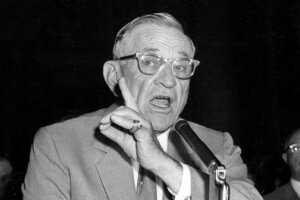 AP/File
1962

Top hitter: Tommy Davis (LA Dodgers), .346 avg.

Top slugger: Willie Mays (SF Giants), 49 HRs

Top pitcher: Don Drysdale (LA Dodgers), 25

NL MVP: Maury Wills, (LA Dodgers) SS

AL MVP: Mickey Mantle (NY Yankees) OF

World Series: New York Yankees defeat the San Francisco Giants, 4-3.

National League baseball returned to New York, with the expansion New York Mets taking up residence in the Polo Grounds for their inaugural season. Casey Stengel managed the club, which was one of the worst in baseball history. Its 40-120 record put it 60-1/2 games behind the San Francisco Giants, the team that had left the Polo Grounds for California in 1958. Despite finishing even 18 games behind the ninth-place Cubs, the Mets drew nearly 1 million fans.

Stan Musial was truly "the Man" in 1962, turning in one of his best seasons ever at age 41. After failing to bat .300 in his three previous seasons, he compiled a .330 average, became the oldest player to ever hit three home runs in a game, and silenced rumors that he was over the hill.

Major league baseball made its debut in Texas with the first team ever named for a gun: The Houston Colt .45s became the Astros when the team moved into the Astrodome three years later.

The Dodgers moved out of the L.A. Coliseum into a brand new ballpark in Chavez Ravine, where they drew a major-league-leading 2.7 million fans. Ironically the first no-hitter at Dodger Stadium was tossed by rookie Bo Belinsky of the Los Angeles Angels, who shared the stadium for four years until permanently locating to their own new ballpark in Anaheim in 1966.

Dodger speedster Maury Wills became the first player to ever steal more than 100 bases in a season, with 104 thefts. He also was named MVP for both the season and one of the two All-Star Games played that season, an arrangement used for four years to build the players' pension fund, but terminated after 1962.

The Giants and Dodgers wound up deadlocked at the end of the regular season, just as they had in 1951, and once again they squared off in a three-game playoff to determine the National League pennant winner. As in 1951, the outcome wasn't decided until the ninth inning of the third game, when the Giants scored four runs in the top of the frame in their come-from-behind 6-4 victory.

In the World Series, the Yankees defeated the Giants in a seventh-game pitching duel, 1-0, that was especially sweet for Ralph Terry, who was credited with the win. Two years earlier, he was tagged with the loss after giving up the dramatic ninth-inning, seventh-game homer to Bill Mazeroski that gave the Pittsburgh Pirates the championship. It remains the only walk-off, Game 7 home run in World Series history.