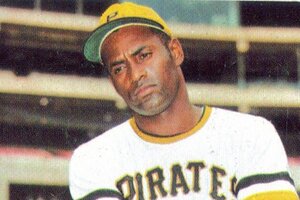 Topps
1972

Top hitter: Billy Williams (Chicago Cubs), .333 avg.

Top slugger: Johnny Bench (Cincinnati Reds), 40 HRs

Top pitcher: Steve Carlton (Philadelphia Phillies), 27 wins

NL MVP: Johnny Bench (Cincinnati Reds) C

AL MVP: Dick Allen (Chicago White Sox), 1B

World Series: Oakland A's defeat the Cincinnati Reds, 4-3.

Baseball's first general strike, centered on pension issues, began on April 6 and was resolved just seven days later.

After 21 years in a Giants uniform, Willie Mays returned to the city where his career began, but this time as a 41-year-old member of the New York Mets. In the first game after being acquired from San Francisco, Mays homered against his former teammates to give his new team a 5-4 win. In June, when the Mets traveled to San Francisco, Mays did it again, hitting a solo shot that proved to be the game winner. As Mets manager Yogi Berra tried to fit Mays into his young lineup, he had him play 11 of 69 games at first base rather than his familiar center field.

In his fifth big-league season, Reggie Jackson stirred things up with the Oakland A's by becoming the first major leaguer with a mustache since Wally Shang sported one with the old Philadelphia A's in 1914. Rather than make facial hair a disruptive issue, A's owner Charlie Finley acted counterintuitively and declared June 18 Mustache Day and offered to pay any Oakland player $300 if he grew a mustache by Father's Day.

In the last at-bat of his 18-year major-league career, Pittsburgh's Roberto Clemente collected his 3,000th hit with a double off the Mets' Jon Matlack. After the season, on Dec. 31, he was killed in a plane crash that was attempting to deliver earthquake aid to Nicaragua. The Baseball Hall of Fame waived its eligibility requirement that a player must be retired five years in posthumously inducting Clemente in 1973, making him the first Latin American player ever enshrined.

The Supreme Court voted 5-to-3 to dismiss Curt Flood's lawsuit challenging baseball's antitrust exemption and its use of the reserve clause, which kept players from becoming free agents. The lawsuit grew out of Flood's objection in 1969 to report to the Philadelphia Phillies after St. Louis traded him along with three other players. As a 12-year veteran, Flood claimed he should have had some control over where he played, and rather than report to the Phillies, he sat out the 1970 season. After a year out of baseball he was able to sign a contract with the Washington Senators, but only played 13 games for them before retiring in 1971. Despite the Supreme Court decision against him, Flood broke the ground that led to free agency in 1975.

Nolan Ryan struck out 16 batters twice in games only eight days apart. In the second game, on July 9, he one-hit the Red Sox, fanned eight in a row at one point, and in the second inning struck out three batters on just nine pitches.