Penn State football: A dozen questions as the post-Paterno era begins
On Saturday, the curtain rises on what will be one of the most closely watched football seasons ever at Penn State. The Nittany Lions host Ohio University in State College, Pa., and for the Penn State community the new season offers an opportunity to move on from the disillusioning and disheartening events of the past year – from the child sex-abuse scandal of former assistant coach Jerry Sandusky that led to his conviction and imprisonment, and to all the collateral damage it caused, including the firing of top university officials and legendary head coach Joe Paterno, who died in January. The new era in the football program comes with many questions. Here are 12 about the team and related matters.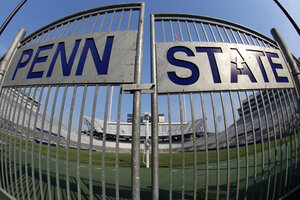 Gene J. Puskar/AP
1.

Fan support

How supportive will fans be of this year's team?

Very supportive, based on reports that nearly all season ticket holders have renewed their seats and that several thousand new season ticket holders have come on board. The student body, which prides itself on being among the most energized in the country, can also be counted on to return in force to serve as the "12th man" on the field. Football will remain a very public face of the university, and the faithful are sure to circle the wagons in protecting and projecting the "We Are Penn State" spirit. As for alums, they've shown their support, donating $208 million in the latest fiscal year, ended June 30, according to The Associated Press.