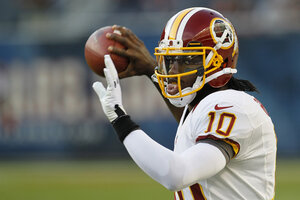 Charles Rex Arbogast/AP/File
2.

Robert Griffin III, Washington Redskins

Drafted: #2 overall (in first round)

Pro status: starter

College team: Baylor

6 ft. 2 in., 217 lbs.

Hometown: Copperas Cover, Texas

QB rating in preseason: 103.3

Griffin, whose full name is often shorthanded to RG3, has seen limited action in the preseason, attempting just 31 passes even though he is the designated starter and clearly the future of the franchise. Maybe the Redskins just want to keep him under wraps, and not show how they plan to use his pass/run talents, which could make him this season's Cam Newton. True to form, he didn't throw any interceptions in the preseason, At Baylor, only 1.43 percent of his passes were picked off, the lowest percentage in history among major-college quarterbacks. He enters the league as the winner of a slew of college awards, including the Heisman Trophy, Johnny Unitas Golden Arm Award, and various Player of the Year awards. He also flashed his off-the-chart athleticism as a 400-meter hurdler, who won the Big 12 Conference championship and was named a track and field All-American. Born in Japan while his mother served in the military, Griffin also has excelled in the classroom. He graduated as a dean's list student from Baylor with a political science degree in just three years.