Javascript is disabled. Quiz scoring requires Javascript.
The toast of Texas? 5-0 Houston Texans: A Week 5 NFL quiz
Their win on Monday Night Football was no masterpiece, but the resourceful Houston Texans remained perfect by knocking off the Jets in New York, 23-17. Next up, the suddenly reeling Packers in a Sunday night shootout. What do you know about the play of the Texans and other developments during Week 5 of the NFL season? Take this 12-question quiz.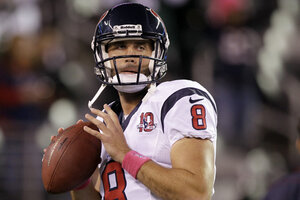 Kathy Willens/AP
1.

While other quarterbacks – Drew Brees, Andrew Luck, et al – have received more media attention, what did Houston's Matt Schaub manage to do in the Texans' latest win over the Jets?

He ran for three touchdowns.

He won his ninth straight game at QB, the longest active streak in the league.

He completed passes to 10 different receivers.

He led the team to its fourth straight come-from-behind victory.