Javascript is disabled. Quiz scoring requires Javascript.
Aaron, Eli, and Andrew: quarterbacks on parade. A Week 7 NFL quiz
As President Obama and Mitt Romney debated national defense issues Monday night, the Chicago Bears parlayed their own rugged defense into a 13-7 victory over the Detroit. In terms of points allowed, San Francisco did Chicago even one better last Thursday, holding Seattle to just two first-half field goals in a 13-6 win. To review your knowledge of Week 7 NFL developments take this 12-question quiz.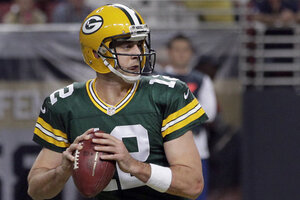 Seth Perlman/AP
1.

In leading Green Bay over St. Louis, 30-20, quarterback Aaron broke Dan Marino's NFL record for fewest interceptions (69) in reaching a milestone 150 career touchdown passes. How many interceptions has Rodgers thrown?