Javascript is disabled. Quiz scoring requires Javascript.
Could the 49ers pick up where San Francisco's Giants left off? A Week 8 NFL quiz
San Francisco quarterback Alex Smith was on fire in Monday night's 24-3 romp over the faltering Arizona Cardinals. He completed 18 of 19 passes, leading some to wonder if the 49ers might just be ready to follow the Giants' World Series win with a Super Bowl championship. To review your knowledge of Week 8 NFL developments, take this 14-question quiz.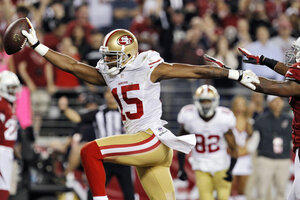 Ross D. Franklin/AP
1.

True or false? If the 49ers were to go on to win the Super Bowl, San Francisco would be the first city to field championship teams simultaneously.