Javascript is disabled. Quiz scoring requires Javascript.
Cam Newton's sophomore slump? Forget about it! A Week 12 NFL quiz
Carolina Panthers quarterback Cam Newton, the rookie sensation of the 2011 National Football League season, has spent most of this year bemoaning his team's frustrating losses. That is until Monday night, when gridiron Cam-a-lot was revived in Philadelphia with a 30-22 win over the fast-falling Eagles, losers of their last seven games. Newton was his old self, scoring four touchdowns, two on passes and two on rushes, and generally looking unstoppable. To test your knowledge of Week 12 NFL developments, take this 15-question quiz.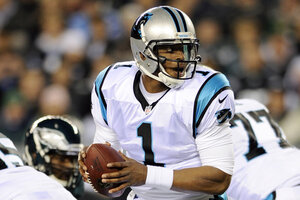 Michael Perez/AP
1.

Cam Newton did something in Carolina's win over the Eagles that you don't expect to see an NFL quarterback do. What was it?

He kicked an extra point.

He went airborne to score a touchdown.

He gained 50 yards on a quarterback sneak.