Super Bowl XLVII postscript: 49ers fall short of Ravens, final plays questioned
Monday morning quarterbacks across the country asked the question. What was 49ers head coach Jim Harbaugh thinking on those final four plays inside Baltimore's 10 yard line with less than three minutes left and trailing by five points in the Super Bowl?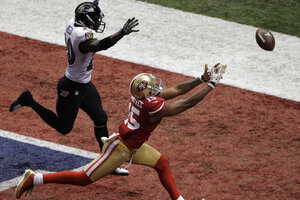 Charlie Riedel/AP
In one of the wildest NFL championship games ever seen (even in the darkest moments), the Baltimore Ravens captured their second Super Bowl title this century by holding on to beat the San Francisco 49ers, 34-31, in New Orleans Sunday night.
Some observers, including Niners head coach Jim Harbaugh, might take the 'holding' part of that opening statement literally near the end of the game. Harbaugh complained of poor officiating on his team's final drive of the contest, saying wide receiver Michael Crabtree was held by Raven defensive back Jimmy Smith on a 4th down pass attempt. San Francisco was trying to take the lead for the first time in the game after being down, 28-6, at the start of the third quarter.
"At the end of the game, it went like it did," Crabtree told 49ers.com. "There was a lot of contact… It happened like that."
Second-year quarterback Colin Kaepernick had driven the 49ers to the Ravens' seven yard line with 2:39 left in the game. However, a short run and three incomplete passes later, the Niners offense left the field defeated and dejected. Running back Frank Gore, who had rushed for 110 yards and a touchdown earlier in the game, wasn't included in any of the four plays. NFL.com reported several San Francisco players weren't happy with the plays called deep in the red zone at the end of the game.
"As a player, all I could think of was maybe running a different play, but that's just a player mentality," tight end Vernon Davis said, via The Associated Press. "[49ers offensive coordinator] Greg Roman, he called the shots. We gotta go with it and respect his calls. He believed in it, we believed in it, but it just didn't work."