March Madness 2013: wilder than usual?
A 75th anniversary, by definition, should be something special. That's what college basketball fans are expecting as the National Collegiate Athletic Association's men's tournament (aka 'March Madness') shifts into high gear with pep bands blaring Thursday. Sixty-eight teams have been invited. Four of those schools will advance to the second round after competing in play-in games Tuesday and Wednesday evenings in Dayton, Ohio. What makes the road to the Final Four in Atlanta on April 6 and 8 so intriguing is that there is so much competitive balance. Even the four top-seeded teams have lost a combined 18 games, which is surely some kind of record. Instead of 10 teams being serious championship contenders, as many as 20 or 30 schools stand a good chance of going all the way. Here are some random facts to help you enjoy what ensues.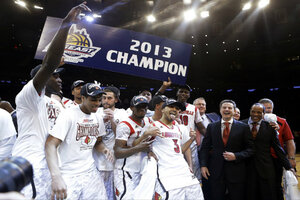 Frank Franklin II/AP/File
1.

Top seeds

The University of Louisville is the tournament's overall top seed and No. 1 seed in the Midwest region. The Cardinals have a 29-5 record after capturing a portion of the Big East regular season title and winning the conference tournament. The University of Kansas, at 29-5, is the South region's top seed by virtue of sharing the Big 12 conference regular season title and winning the conference tournament championship. In the West region, Gonzaga is the No. 1 seed after compiling a 31-2 mark and winning the West Coast conference tournament. Finally in the East region, Indiana is the number one seed. The Hoosiers, at 27-6, were the Big Ten regular season champions, and ranked No. 1 in the country for several weeks during the college basketball season.