Major League Baseball 2013: bobbleheads and fireworks galore for fans
Fans in the know are as likely to buy Major League Baseball tickets based on scheduled giveaways and promotions as on the opponent. Here then is a list to help introduce you to this aspect of game attendance.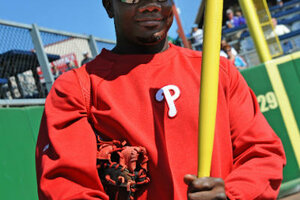 COURTESY OF THE PHILADELPHIA PHILLIES
1.

Where to begin

All major-league team websites are laid out much the same, and by checking the pull-down menus under "Schedule" you will find a rundown for "Promotions and Giveaways" or "Promotions and Special Events." In virtually every case there is information about how many of any giveaway item will be available, which can be important to know in planning how early to get to the ballpark, since it's first come, first serve.

Quantities generally vary between 5,000 to 25,000. Some items are just for kids, such as the Wiffle Ball set the Phillies give away. Others are for adults, such as the 5,000 fishing lures handed out by the Minnesota Twins.

The Phillies believe that any fan in the specified age category is entitled to the giveaway regardless of what time they arrive for the game. The Seattle Mariners, similarly, say that even their most popular items are available at the gates for an hour or so after they open.