NCAA Final Four preview: Louisville, WSU, Mich., and Syracuse will keep things lively
The Cardinals, Shockers, Wolverines, and Orange all average right around 70 points per game this season. Depending on your team or the style of play, college basketball fans should be entertained this weekend at the Final Four.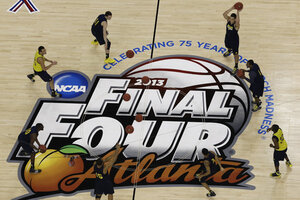 David J. Phillip/AP
A pair of intriguing contests await the large crowd that will assemble inside Atlanta's Georgia Dome this Saturday evening for the 2013 NCAA Final Four.
In the first game, scheduled to tip off just after 6 p.m. Eastern time, Louisville, the tournament's overall No. 1 seed out of the Midwest region, will meet Wichita State, a ninth seed and upstart champions of the West region.
This weekend, the 'Wheat' Shockers make their second trip to the Final Four. The last time Wichita State reached the national semifinals was 1965, when they lost to the repeating national champion UCLA Bruins.
Ironically, back in 1965, Wichita State and Louisville were both members of the Missouri Valley Conference. The Cardinals left in 1975 to join what was then called the Metro Conference and has since morphed into Conference USA.
Wichita State defeated second seed Ohio State last weekend in Los Angeles, behind the outstanding play of Regional MVP Malcolm Armstead and Cleanthony Early. Carl Hall and Tekele Cotton also have made important contributions throughout the Shockers' season.
Louisville overcame the emotionally draining injury to backup guard Kevin Ware to prevail over second seed Duke in the Midwest Region final last Sunday. Paced by the terrific play of guards Peyton Siva and Russ Smith, the Cardinals are hoping to capture the school's third national championship.
The big question in the first national semifinal: What can the Shockers do to solve the Cardinals' full-court pressure and fast-breaking offense?
"They're (Louisville) very, very fast, athletic, ... push it extremely hard. What you've got to do is not turn the ball over. If we're turning the ball over and giving them transition opportunities, then we're not doing what we're trying to do," Shockers head coach Gregg Marshall told reporters Friday.
Saturday's second game will feature a pair of fourth seeded teams - Michigan and Syracuse. The Wolverines are making their first trip to the Final Four since 1993. After upsetting top seed Kansas, Michigan shot their way past Florida for the South regional title.
Trey Burke, named this week the John Wooden Award winner and Associated Press Player of the Year, and Mitch McGary made names for themselves during the Sweet 16. Tim Hardaway Jr. and Glenn Robinson III, sons of NBA stars bearing the same names, have been season-long leaders for Michigan.
Following a win over region top seed Indiana, Syracuse is the East region champ by virtue of a win over fellow Big East member Marquette. Head coach Jim Boeheim's team last reached the Final Four in 2003, when they won it all.
Junior forward C.J. Fair leads the Orange in scoring, followed by senior guard Brandon Triche and sophomore point guard Michael Carter-Williams.
The question in this national semifinal nightcap is whether Trey Burke and Michigan's other wing players can penetrate the Orange's vaunted zone defense and score inside and out. Meanwhile, Jim Boeheim is concerned about his team's offensive production.
"I think it probably needs to better, because Michigan is the best offensive team we've played," Boeheim told reporters in Atlanta Thursday.
CBS will televise the NCAA Final Four, beginning at 6 p.m. Eastern time Saturday.