Javascript is disabled. Quiz scoring requires Javascript.
Masters green jacket and other distinct uniforms: Take our colorful sports fashion quiz
An annual highlight of the Masters tournament occurs when the new champion slips into the winner's green jacket, one of the most iconic articles of clothing in all of sports. Test your knowledge of this and other sports attire by taking this 25-question quiz.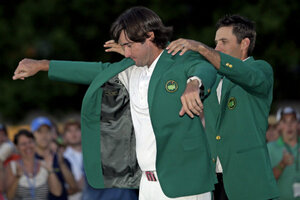 David J. Phillip/AP/File
1.

How did Georgia's Augusta National Golf Club come to select green jackets as the winner's garb?

Green jackets match the emerald color of the course.

Green jackets are associated with the club's exclusive membership.

A green jacket was the choice of the club's Irish-born president.

An Augusta, Ga., clothier had a sale on green jackets.