Who handled Major League Baseball's ceremonial first-pitch honors in 2013?
One of the most anticipated moments of any baseball season occurs when ceremonial first pitches are thrown at each of 30 major-league ballparks. Often the identity of the persons or persons doing the honors is kept a secret until the last minute. Here's the lineup of the 2013 VIPs: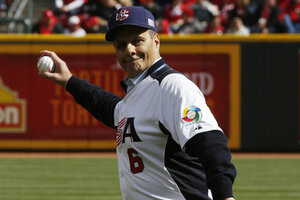 AP/DAVID KOHL
1.

Cincinnati Reds

Joe Torre, of Team USA in the World Baseball Classic

Torre was a rather surprising choice, not because he lacks baseball credentials, but because he's never had any connections to the Reds. During his long career in the majors he played and managed for five different teams: the Braves, Cardinals, Mets, Dodgers, and Yankees. His selection seems to fall into the category of a lifetime achievement award, with his service as the Team USA manager in the recent World Baseball Classic his latest contribution to the game, even if the US squad failed to make it to the championship round.