Boston Marathon: five runners and why they'll be at the starting line
It was perhaps the first milestone in Boston's marathon of a journey after the twin bombings: In the seconds after the two devices ripped through the crowd at the Boston Marathon finish line on April 15 last year, killing three people and injuring at least 264, some people ran not away from the chaos, but toward it, reaching out to the wounded and scared.
There have since been many more milestones – moments of courage, of healing – as Boston has rebounded from the attack. There are still more ahead.
Over the past year, the Boston Marathon bombings have become a touchstone for a truth about this city that has always been noticed on race day, but is ever present: Boston, a city whose marquee event is a test of human endurance, is resilient – or, as the rallying cry goes, it is "Boston Strong."
One year to the day that two young men allegedly tried to set this city back, in the pink glow of just-blooming magnolia trees, a memorial service at the finish line will pay tribute to the bombing victims, as well as all those who in countless ways have come to their aid.
Then, six days later, on what's called Patriot's Day in Massachusetts, some 36,000 runners and 1 million spectators will assemble for Boston's 118th marathon. Those numbers are much larger than usual, and the total is almost twice the population of Boston proper.
"The Boston Marathon belongs to us, and that will never change," said Boston Mayor Martin Walsh at the unveiling last month of the Boston Marathon banners, which flap each spring high on the city's light poles. This year they read: "We run together."
The following profiles are of five runners to whom the marathon belongs. They are athletes for whom the past year has been one of individual milestones – toward personal recovery, toward another marathon. They're running a race that has long been a 26.2-mile-long stage for this city's pride, but this year will be all the more so.
Here are their stories.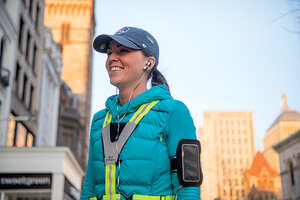 Ann Hermes/Staff
1.

Caitlyn Bransfield, Boston

Last year, Caitlyn Bransfield was a spectator at the Boston Marathon finish line when she heard an explosion down the street. Seconds later, there was another blast on Boylston Street – this time just 15 feet to her left.

Ms. Bransfield, a tall and poised sales manager at a flower retailer in Boston, wasn't physically hurt in the bombings. But April 15, 2013, stayed with her.

"After two bombs go off, you just wonder, where will the next one be?" she says. She spent that day searching for friends and relatives (none of whom were hurt) amid the chaos unfolding a 10-minute walk from where she lives.

For the next month, Bransfield avoided Boylston Street. "I was too afraid to go back," she says. She also demurred from wearing "Boston Strong" apparel because "I didn't feel very strong," she says.

Last May, Bransfield joined a running club at Marathon Sports, the store outside of which the first bomb had exploded. She had never been a runner, but now "it felt like the natural thing to do," she says.

"I knew the running community would get what I was going through," she says. "I didn't need to say anything, and they just understood. We all scare easily. We all jump at noises."

On a Wednesday that month, Bransfield ran 3.5 miles with the club. The next week, she was back – and has been every week since.

On race day, she'll run on behalf of two charity teams: one raising funds for Massachusetts General Hospital, which treated 39 people injured in the bombings, and Collier Strong, a team running in memory of Sean Collier, the police officer at the Massachusetts Institute of Technology (MIT) in Cambridge who was slain in the attack's aftermath. He and Bransfield attended high school together in Wilmington, Mass.

These days, Bransfield does feel "Boston Strong," she says: "What happened was tragic, but I've tried to make the best of it. I'm stronger because of it."

She pulls up her sleeve to reveal a rubbery "Boston Strong" wristband, plus a runner ID, a step tracker, and a Boston Marathon bracelet.

"This all used to be pearls," she says, laughing. "I guess I'm a runner now."

– Elizabeth Barber, staff writer