13 of the most extraordinary baseball games of all time
Among countless Major League Baseball games played in more than a century – some of consequence but most not – which ones jump off the pages of history? To find out, we dug into the 1,216-page "Baseball Timeline," which gives capsule descriptions of hundreds of games in an incredible chronology published by DK Publishing. While the book has been out since 2001, it's hard to imagine any games being more out of the ordinary in various ways than these.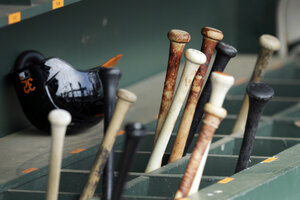 1.

June 23, 1917: Ernie Shore turns in astounding relief-pitching effort

The Boston Red Sox defeat the Washington Senators, 4-0.

Babe Ruth was Boston's starting pitcher but was ejected before recording a single out by umpire Clarence "Brick" Owens for arguing about a leadoff walk on four straight balls. Starting catcher Chester Thomas is also tossed. Ernie Shore, a physically imposing 6 ft. 4 in, 220-lb. hurler, relieves Ruth and before he retires a batter, backup catcher Sam Agnew throws out Ray Morgan as he attempts to steal second base. Shore then proceeds to put down the next 26 Senators, thus recording the first combined no-hitter in major-league history, and nearly a perfect game.

Additional facts:

- The game took just 1 hour and 40 minutes to play.

- Shore's pitching record that season was 13-10.

- Although this was considered a "perfect game" at the time, the official definition was later changed, stripping it of its "perfect" status.