Javascript is disabled. Quiz scoring requires Javascript.
How much do you know about Ohio State football? Take our quiz
For well over 100 years, the Ohio State University in Columbus has fielded a football team, producing national championships, Heisman Trophy winners, and numerous All-Americans. Test your Buckeye knowledge by answering the following questions, generated with help from the Ohio State football media guide.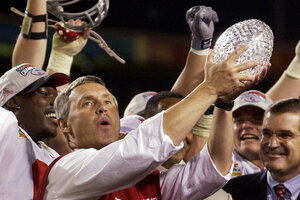 Paul Sakuma/AP/File
1.

How many national championships has Ohio State won?