Javascript is disabled. Quiz scoring requires Javascript.
Indianapolis Colts: Test your team knowledge with our quiz
This NFL franchise got its start in Baltimore and now resides in Indianapolis, winning Super Bowls while representing both cities. See how much of a Colts fan you are by taking our quiz.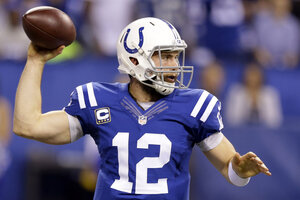 Michael Conroy/AP
1.

What was the name of the enclosed stadium the Indianapolis Colts played in before Lucas Oil Stadium was built?