Baseball's longest 21st century hitting streaks
Red Sox center fielder Jackie Bradley Jr. extended his hitting streak to 29 games on Wednesday May 25, 2015. The last Red Sox player on this long of a streak was Johnny Damon, who hit in 29 consecutive games in 2005.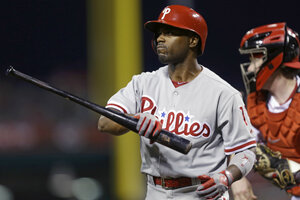 AL BEHRMAN/AP
38 games – Jimmy Rollins

2005-06 with the Philadelphia Phillies

Lifetime batting average: .270

Streak occurred in: 6th and 7th seasons of his still-active, 14-year major league career.

Streak snapped: April 6 when Rollins went 0-for-4 in a loss to the Cardinals. In his final at-bat in the seventh inning, he flied out to center field.

Background: Rollins ended the 2005 season with a 36-game hitting streak and had to wait six months before trying to continue the streak as the 2006 season began. He went hitless in the third game. In 2007, Rollins was named the National League MVP when he became only the fourth player to ever have 20 doubles, 20 triples, 20 home runs, and 20 stolen bases in the same season.