First Harry Potter stamps, next owl post? USPS rolls out limited edition.
(Read article summary)
The financially challenged Postal Service is hoping to cash in on the love for J.K. Rowling's characters with a set of commemorative Harry Potter stamps, available Nov. 19.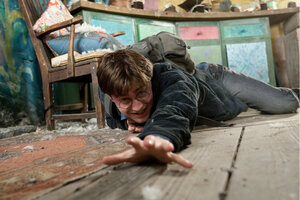 Jaap Buitendijk/Warner Bros. Pictures/AP
The flurry of letters announcing Harry Potter's acceptance into the wizard school Hogwarts – which arrived in persistent droves as Harry's loveless Uncle Vernon destroyed them – must have been a boon to Britain's Royal Mail system. 
The cash-strapped US Postal Service has enjoyed no such enchanted burst of activity since the age of e-mail began, but the agency is hoping to cash in on the nationwide love for J.K. Rowling's characters, plucky and evil alike, with a set of limited-edition commemorative Harry Potter stamps. For sale starting Tuesday, Nov. 19, they will depict 20 scenes and characters from the bestselling books that became blockbuster movies.
The USPS, which reported losing nearly $25 million per day earlier this year, hopes this limited run will be preserved in the collections of both Harry Potter fans and philatelists. "I think the stamps will spark a lot of interest among young people," Postmaster General Patrick Donahoe told USA Today.
Although the Harry Potter stories were wildly popular in the United States and adapted for the screen by Warner Bros., the characters themselves are not American. The USPS limited edition thus appears to be part of efforts by the agency to broaden the appeal of its stamps.
For several years, the Postal Service has loosened restrictions on the subject matter of stamps. Prior to 2007, only people who had been deceased for at least 10 years were eligible to appear. In 2007, that was dropped to five years, and in 2011, the agency asked the public to suggest who should be the first living subject to grace a US stamp. 
But two years later, no announcement has been made about a living selection. "We're still in the decision mode here," spokesman Roy Betts said.
This will not be the first time that US stamps have commemorated fictional characters. In 2009 and 2010, the USPS printed 1 billion stamps based on the animated TV show "The Simpsons," to commemorate the show's 20th anniversary. That number suggested an expectation that those stamps would sell twice as well as the most popular US stamp ever printed, a 1993 Elvis portrait. Some 124 million Elvis stamps remain in collections, according to the American Philatelic Society.
But only a third of the Simpsons stamps sold, costing the USPS $1.2 million in printing costs that were not recouped. This fueled the arguments of antigovernment activists. "If the Postal Service can't address a simple matter such as determining how many commemorative stamps to produce, it shows they can't address the larger problems," Thomas Schatz, president of Citizens Against Government Waste, told Bloomberg. [Editor's note: The original version of this article incorrectly stated that the USPS had lost $1.2 billion from the Simpsons stamp printing.]
The 44 cent Simpsons stamps also became somewhat inconvenient, when the price of a first-class letter rose to 45 cents. The Harry Potter stamps, which are Forever stamps whose value appreciates alongside the cost of postage, should avoid this problem.
The Postal Service lost $16 billion last year and expects to incur a $6 billion loss this year, according to the Associated Press. To save money, earlier this year it proposed stopping Saturday letter deliveries, but that plan fizzled.
Yet in a deal that could give the Postal Service a boost, Amazon on Monday announced that a partnership with the agency so its packages can be delivered on Sundays. The service is starting in New York and Los Angeles, with plans for it to expand to other US cities next year.
As for Harry Potter, the appeal of the series continues to animate other sectors as well. A research team at the University of Texas at Austin has made strides toward creating an "invisibility cloak" capable of making objects transparent, similar to the one used by Harry.
And Starbucks has released a butterbeer this week, for Muggles wanting to guzzle wizardly froth this fall.