Hillary Clinton 2016: A smarter social media campaign this time?
(Read article summary)
Less than a day after Hillary Clinton announced her bid for the presidency, her new Facebook page has more than 600,000 likes. How critical will social media be to the Clinton 2016 campaign?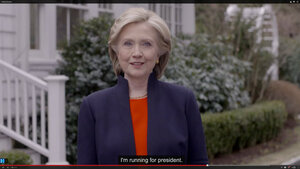 Hillary For America via AP
Hillary Clinton is making her play on social media.
Less than 24 hours after launching her Facebook page Sunday – the same day she officially announced her presidential bid – Mrs. Clinton has racked up more than 600,000 page likes and 2 million video views. Her decision to strengthen her online presence as she begins her campaign highlights the importance of social media and data in the 2016 elections, even as Clinton and her camp strive to overcome the mistakes of her last run for president.
"As our nation ramps up for 2016, the role of big data + social data in influencing election decisions cannot be ignored," according to Wired. "Social data drove the 2008 presidential elections and big data drove the 2012 election. In 2016 it will be the marriage of the two that will determine the next President of the United States."
Already Republican candidates have been upping their social-media offensives over the last few months. In March, Texas Sen. Ted Cruz announced his bid for the presidency via Twitter and followed it up with a social campaign using the hashtag #MakeDCListen, quickly logging more than 5 million total interactions on social media, according to a National Journal report.
The same report found that Kentucky Sen. Rand Paul is ahead of the game in terms of Facebook page likes; he's currently at just under 1.8 million.
Former Florida Gov. Jeb Bush, who has said that he "will actively explore the possibility of running for president," is playing catch-up with only about 167,000 likes on his Facebook page. But he has tried to make up for it in recent months with an active Instagram presence, posting videos in English and Spanish.
Of course, social media can be a two edged sword. Clinton's presidential announcement has already met with trending scorn on Twitter: The hashtag #WhyImNotVotingForHillary drew attention to the challenges of Clinton's campaign – which include, among others, having to replace a two-term Democrat in the White House and overcoming the perception of privilege that has surrounded her since at least 1991, when her husband Bill ran for president.
The danger of bad publicity aside, however, social media remains a powerful tool for attracting attention and engaging voters. For Clinton, social media is, at the very least, a way to make herself more relatable as she pushes back against a recurring narrative that paints her as part of a political family that "are secretive, and see themselves as above the rules," The Christian Science Monitor's Linda Feldmann wrote last week.
Political campaigns have long been focused on "sound bites" or small, digestible messages. The use of smartphones – i.e. small screens – is likely to reinforce that trend since that's where a growing segment of voters view social media and news. Today, 64 percent of Americans own a smartphone of some kind, compared to only 35 percent in the spring before the last presidential elections, according to the latest Pew Research Center study.
This new mobile reality also introduces a wild card element to this campaign, as most citizens now have the tools to capture video and sound notes, Politico's Dylan Byers wrote in his blog, On Media. He added:
The rise in mobile usage will increase the number of citizen reporters, whose influence on recent political campaigns has been quite significant. Video footage of an errant remark ... can have more influence on a political campaign than any traditional news report.  
"[It] will create new ways for campaigns to advertise and target voters, down to highly specified demographic groups," Mr. Byers wrote.