A woman's portrait will soon appear on the $10 bill. But it can't be Beyoncé.
(Read article summary)
The Treasury Department is asking for suggestions of women to feature for a new note set to be revealed in 2020.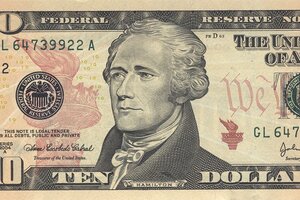 U.S. Bureau of Engraving & Printing
American currency is finally about to get a dose of diversity.
For the first time in more than a century, a woman or several women will be featured on paper currency, the Treasury Department announced Wednesday.
Officials say Alexander Hamilton, who is currently featured on the $10 bill, will share the spot for a redesigned bill that will be unveiled in 2020 – an aptly symbolic time for women, as the year also marks the 100th anniversary of the passage of the 19th amendment, which gave American women the right to vote.
Featuring a woman on US currency may be a symbolic gesture but it's a gesture with broad scope. "With such a wide reach, America's currency makes a statement about who we are and what we stand for as a nation," Treasury Secretary Jack Lew told CNBC. "This decision of putting a woman on the $10 bill reflects our aspirations for the future as much as a reflection of the past."
Indeed, the US dollar has long had a far-reaching significance, serving as the world's dominant reserve currency and used as the official legal tender in numerous countries, from the British Virgin Islands to Ecuador to Zimbabwe. Many of the Middle East and Latin America's own currencies are also pegged to the American dollar.
Until now, a woman hadn't been recognized on US paper currency since the 1800s, when Martha Washington and Pocahontas appeared on the $1 silver certificate and $20 note respectively. Currently, Sacagawea and Susan B. Anthony are featured on dollar coins, and Helen Keller on a quarter.
Mr. Lew, who will ultimately make the decision on which woman to feature, has asked the public to offer its suggestions on social media using the hashtag #TheNew10.
Popular suggestions so far have included Helen Keller, Eleanor Roosevelt, Harriet Tubman, Rosa Parks, and Wilma Mankiller, reported ABC News.
Singer Clay Aiken tweeted his proposal for Ms. Parks or Jeannette Rankin, the first American Congresswoman.
Slate writer Jillian Keenan also named several possible contenders, including Phillis Wheatley, the first African American and first slave to become a published poet; Deborah Sampson, who disguised herself as a man to fight in the Revolutionary War; and Sylvia Rivera, a transgender and civil rights activist leader at the turn of the 1970s.
While law mandates that the person honored cannot still be alive, that didn't stop numerous social media users from throwing out names of celebrities like Beyoncé as suggestions.
The news comes on the heels of a prominent campaign to feature a woman on the $20 bill. While most headlines lauded the Treasury's announcement, some women expressed frustration with the plan, saying that while it's a step in the right direction, it also falls short of real progress.
"We asked for a woman on the $20 and instead we get a woman sharing the ten. Disappointed. We're half the country," tweeted one user.
"Democracy: when the govt doesn't listen to the people and they decide women aren't good enough to be alone on our money," wrote another.