Are parents responsible for kids' drinking? Maryland court says yes.
(Read article summary)
Maryland's Court of Appeals ruled Tuesday that adults can be held civilly responsible if they serve alcohol to a teen who gets hurt or hurts someone else.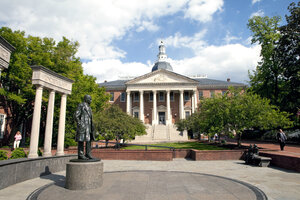 Melanie Stetson Freeman/The Christian Science Monitor/File
Maryland parents who provide alcohol to underage children can be held responsible if the underage drinker then is injured or hurts others, Maryland's highest court ruled Tuesday.
The decision differs from previous decisions Maryland's Court of Appeals had made regarding third-party responsibility for the actions of intoxicated individuals. Previous rulings had found that bar owners weren't responsible for the behavior of their drunk customers, but the new ruling stated that teenagers are unable to fully understand the consequences of their decisions, as the Baltimore Sun reported. 
"Underage persons are not solely responsible for drinking alcohol on an adult's property because they are not competent to handle the effects of this potentially dangerous substance," Judge Sally D. Adkins wrote in the court's decision.
In order to be held responsible, the adult must "knowingly" and "willfully" provide alcohol to an underage person, The Washington Post reported. 
The decision related to two recent cases in the state. In one of the cases, a woman was walking her dog in 2011 when she was hit by a car driven by an 18-year-old who had been drinking at a party where an adult had been mixing drinks. 
In the other case, 17-year old Steven Dankos had gotten drunk in the garage of Linda Stapf's house before getting into the bed of a truck. The truck crashed, killing Steven. Ms. Stapf was believed to have provided the alcohol for the party. 
"This is a wake-up call to the so-called cool parents who on Friday nights have their kids' friends over and allow them to drink in their basements," Tim Maloney, the lawyer for Steven's mother, told the Post. 
The decision comes after the state's General Assembly increased fines and jail times for adults who knowingly host parties where underage drinking takes place. The legislation was originally known as "Alex and Calvin's Bill," for two teens killed in June 2015 by a classmate who got drunk at a party where a parent was present. 
Despite some parents' rationale that it is safe to allow teens to drink at home where they can keep an eye on them, the only safe approach for underage people is abstaining from alcohol, said Lisa Spicknall, director of the Maryland branch of Mothers Against Drunk Driving. 
"Reality shows that children die each and every day in impaired driving crashes caused by underage drinkers leaving parties that are hosted by parents," she said.
The appeals court decided the "knowingly and willfully" wording of the criminal law against hosting underage drinkers should apply in civil cases as well as criminal ones, as parents whose children host a party when they aren't home or sneak alcohol into the house will likely not be held legally responsible. 
Mr. Maloney said he believed the rulings would have a long-term impact. 
"This has become almost an epidemic in some areas of the state," Maloney told the Sun. "I think this is really going to change the social consciousness of parents throughout the state."