Tibetans join anti-Olympics chorus
Exiles in India vowed to defy a police ban on their march to Tibet, launched Monday.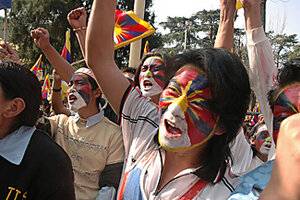 Ashwini Bhatia/AP
In a graphic illustration of the pitfalls for China in hosting the Olympics, a few hundred Tibetan exiles launching a six-month march to their homeland grabbed international headlines despite being stopped within hours by Indian police.
The protesters, aiming to arrive at the Indian border with Tibet on the opening day of the Games to draw attention to Beijing's often harsh rule over their region, have succeeded again in using the Games to put Beijing on the defensive.
In the wake of Steven Spielberg's resignation as artistic adviser to the Games in protest against China's role in Darfur, the Tibetans have thrust themselves into a "galvanized international focus on the Olympics as an event that might not work out well for China," says Robbie Barnett, a Tibet expert at the Weatherhead East Asian Institute in New York.
"We wish to unveil the true face of China," says Lobsang Yeshi, a coordinator of the march. "This kind of tyranny [in Tibet] will become open for the world to see … and we see the media coming out to hear the other side of the story."
Mr. Yeshi said the marchers will defy Indian police orders that they stop at the border of Kangra district, which contains the town of Dharamsala, headquarters for the Dalai Lama's Tibetan government-in-exile.
A number of similar marches have passed almost without notice in recent years, says Mr. Barnett. "I am amazed" at the attention this week's protest has attracted, he says. "The Olympic Games is the underlying context," he adds, although a newly moderate approach by Tibetan youth leaders has also won more serious international respect.
The start of the march coincided with the anniversary of a failed Tibetan uprising against Chinese rule in 1959 that forced the Dalai Lama to flee to India. In the Tibetan capital of Lhasa, Buddhist monks also marked that date Monday with what was reported to be the largest public protest there since 1989.
More than 70 monks and other protesters were arrested, according to Tibetan exile website reports, though Chinese officials played down the incident.
"Some monks in Lhasa abetted by a small handful of people did some illegal things that can challenge the social stability," Chinese Foreign Ministry spokesman Qin Gang told reporters Tuesday. They had been dealt with "according to the law," he said, but gave no details.
Tibetan exiles and their supporters demonstrated in San Francisco; New Delhi; Kathmandu, Nepal; and Olympia, Greece, from where the Olympic flame is soon due to leave for Beijing.
The Dalai Lama, who insisted last week that he does not want to disrupt the Olympics and who has not endorsed the exiles' march, nonetheless used unusually strong language Monday in a speech.
He accused China of "unimaginable and gross human rights violations" in the Himalayan territory. The Dalai Lama, charged by Beijing with being a "splittist" seeking Tibetan independence, has said he would be satisfied with some form of autonomy for his people under Chinese sovereignty. That is regarded as excessively conciliatory by many young Tibetan exiles, but in recent years, Tibet watchers say, a new generation of leaders has cultivated a less aggressive image.
The Tibetans' ability to win international public support "has to do with perceptions of China," says Barnett. "The Tibetans acquire a moral edge because the Dalai Lama has persuaded them not to use violence," he says.
• Mark Sappenfield contributed from New Delhi.