Q&A: How much aid has reached Haiti?
More than $1 billion in aid to Haiti has been pledged so far by governments from Guatemala to Greece. The UN and other groups are increasing food distribution by the day.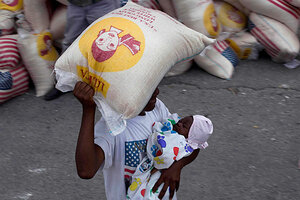 Ramon Espinosa/AP
As the Haitian government announced an end to rescue operations, the country and the international community are turning to the long, hard process of reconstruction that Prime Minister Jean-Max Bellerive, at an international aid conference in Montreal Monday, said could take between five and ten years.
How much aid has reached Haitians?
While teams from around the globe came in to rescue those buried in the rubble, so, too, did surgeons and paramedics, performing procedures in open fields and makeshift clinics under tents. Ciro Ugarte, a disaster expert at the Pan American Health Organization (PAHO), says that over 150 health-care points have been set up throughout Haiti, and that 135 teams are on the ground providing surgeries and post-operative care.
The UN and other groups are also increasing food distribution by the day. The United Nations World Food Program provided 2 million meals this past Friday, representing about two-thirds of all of those hurt or displaced by the earthquake, up from 1.2 million the day before. The United States Agency for International Development (USAID) reports it will be providing 14,550 tons of food aid for 1.2 million people over the next two weeks. The Red Cross is providing 3 million pre-packaged meals, in coordination with the WFP, to arrive this week, the group says.
Health and sanitary concerns in the settlements remain a challenge. PAHO reported at the end of last week that up to 80 water distribution sites were serving about 130,000 to 180,000 people each day. The Red Cross is providing clean water to 400,000 people daily. So far, they have distributed more than 2 million liters. UNICEF and Oxfam are two groups building latrines.
At the same time, attention has turned to longer-term temporary settlements. The Haitian government has said it aims to relocate up to 400,000 people outside the city, and international groups are currently clearing spaces to set up tents for tens of thousands of Haitians.
What role is the Haitian government playing?
The Haitian government was weak and poor before the earthquake, and now it needs "more and more and more" aid, said Mr. Bellerive Monday. "In 30 seconds, Haiti lost 60 percent of its GDP," he said. The government itself is in shambles, with the national palace in collapse, as well as the police headquarters and nearly all of its ministries.
The government is, thus far, putting most of its attention on relocation, leaving relief services like medical and water and food distribution to the international community. The UN reports that 130,000 people thus far have been transported by the government to towns outside the capital, and the demand is not likely to slow. The UN Food and Agricultural Organization has estimated that the numbers of Haitians heading from cities to rural areas could reach 1 million.
Haiti's government has also coordinated with the US, especially the ministry of health. A joint US-Haiti press conference Monday assessing the public health priorities in the next phase of disaster response was pointedly held at a Haitian public health facility. Appearing at the conference, Haiti's health minister, Alex Larsen, said his emphasis in the coming months would be on maintaining existing health programs despite the heavy new demands resulting from the quake.
"We have to take care of the wounded, the displaced, and those who lost everything," he said. "But we can't forget our existing public health programs" such as child vaccinations and tuberculosis prevention. "Those must continue and be strengthened."
What are US troops doing?
The US government has faced international criticism that it is virtually occupying Haiti with its massive aid effort, including the deployment of thousands of military members. The US Air Force is in charge of airport flight operations, landing as many as 160 planes at one point, military officials say.
Last week, the USNS Comfort, a hospital ship with 12 operating rooms, arrived off the coast of Haiti, and there are some 20 other US Navy ships in or around Haiti now, including the aircraft carrier USS Carl Vinson. The ships serve as launching pads for the military to conduct helicopter operations to deliver relief supplies or ferry the injured back and forth.
Ground forces began to arrive the weekend after the earthquake. Most elements of the 2nd Brigade of the 82nd Airborne Division, Fort Bragg, N.C., have arrived to support relief operations or to provide security in those "pockets of instability," according to one senior military official. The 22nd Marine Expeditionary Unit, Camp Lejeune, N.C., also inserted at Jacmel and other areas outside the capital. On Wednesday, the Pentagon sent an additional Marine unit, the 24th Marine Expeditionary Unit, on its way to deploy to South Asia and the Middle East, to Haiti. Although it is not clear what its mission would be, the additional Marine unit has heightened speculation that military officials were concerned about security in and around the capital.
The military has conducted two air drops of relief supplies despite fears that such an air drop could cause rioting. The first air drop included about 3,700 gallons of water and about 14,000 packaged meals. That was followed by a second on Wednesday. Military officials expected to conduct a third drop on Sunday.
How much international assistance is coming from other countries?
A tally by the Associated Press shows that $1 billion in aid to Haiti has been pledged by governments, from Grenada to Guatemala to Greece. For a breakdown by nation, look here.
The US had led the world in its donations, with $130 million pledged, according to USAID. The Inter-American Development Bank has pledged $200 million; the World Bank has pledged $100 million, according to the AP.
But the aid goes beyond government charity, with groups from around the globe rushing into Haiti. Look here to see which ones are accepting donations.
And on Friday, at a much-hyped benefit concert featuring Madonna, Bono, and Bruce Springsteen, among other artists, $58 million was raised.
What are the greatest needs now?
International relief organizations say that the emergency phase will last for at least the next eight weeks, even as the nation and world turn to more long-term planning.
"We are still in a relief period. First aid, temporary shelter, basic needs to keep people alive," says Eric Porterfield, a spokesperson for the American Red Cross. "As we talk about the weeks and months ahead, we will be shifting to the recovery period … looking at how you get people back to work. You are also looking at water systems, and sanitation systems (that were destroyed)."
Many say that permanent shelter, especially as the rainy season and later the hurricane season approach, will be among the chief long-term challenges in Haiti.
"The goal is to get people back into safe homes as soon as possible. While it's easier to provide water, latrines, food, and shelter in an organized camp than in the myriad vacant lots and churchyards where people have taken refuge, we can't lose sight of the need for permanent housing," says Michael Delaney, director for humanitarian response for Oxfam America.
Gordon Lubold contributed reporting from Washington and Howard LaFranchi from Port-au-Prince.
Also of interest:
An audio slideshow: Haiti earthquake: at the epicenter
---- For all stories, blogs, and updates on Haiti after the earthquake, go to The Monitor's Haiti page.