Javascript is disabled. Quiz scoring requires Javascript.
The Monitor's weekly news quiz for April 26 - May 1, 2011
How much of a "News Junkie" are you? From the obvious to the more obscure, test your knowledge of the week's events. Take our photo quiz.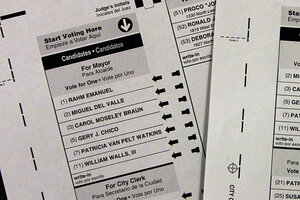 1.

Who is the mayor-elect of Chicago?

The city of Chicago held a mayoral election on Tuesday, Feb. 22. Incumbent Mayor Richard M. Daley (D), in office since 1989, did not seek a seventh term as mayor.