Javascript is disabled. Quiz scoring requires Javascript.
World newsletter weekend quiz: May 28-29 edition
A weekend quiz designed specially for our daily newsletter subscribers. Five questions, lots of fun!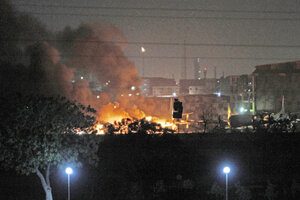 Shakil Adil/AP
1.

In Pakistan, the week kicked off with a 15-hour siege of a naval base in Karachi. Why was this attack particularly worrying?

Around a dozen Taliban fighters infiltrated the base to launch the attack, raising fresh concerns about the competency and loyalty of the Pakistani military.

The naval station is located only 15 miles from the country's largest air base, a suspected nuclear site.

It was the second major Taliban attack in revenge for the US raid that killed bin Laden, and the worst in Pakistan since 2009.