US heat wave: 5 places that make it look milder
The July heat wave shimmering across the United States is generating everything from prime-time news coverage to contests for describing just how hot it really is.
More than a third of the US is experiencing heat indexes of more than 100 degrees Fahrenheit, according to the National Weather Service. Six US cities set all-time record highs last month, with the hottest new record coming from Childress, Texas. The temp? 117 degrees. Savanna, Ga., meanwhile, experienced temps of 90-plus degrees for 56 days straight (May 20 to July 14).
But what may be a record-setting summer in America is relatively routine in other parts of the world, where many people experience months of weather like this – and not necessarily with Western comforts like air conditioning. Some are almost as hot as America's Death Valley, which averages 115 degrees in July. Yet their inhabitants manage to survive, albeit through sweat if not tears.
Perhaps the fortitude of their global brethren will bring a breeze of hope to Americans. Here are five places with more extreme weather than the US is currently experiencing.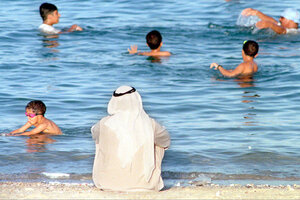 AFP/Newscom/File
1.

Kuwait City, Kuwait

Forecast high today: 117 degrees

Average high for July: 112 degrees

Average low: 87 degrees

Average relative humidity: 23 percent degrees

Record high: 124 degrees

See full forecast here.