10 brands you'll have to give up if you're boycotting Israel
Since 2005, the Boycott, Divestment, and Sanctions movement (BDS) has called on the international community to pressure Israel economically as "a form of civil resistance to Israeli occupation, colonialism, and apartheid."
That would mean significant lifestyle changes for some consumers. Here are 10 brands that BDS supporters have urged others to boycott, not to mention thousands of other products that contain or use Israeli-developed technology, including iPhones, iPads, MacBooks, Skype, computer firewalls, and Microsoft XP.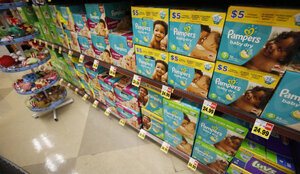 Mario Anzuoni / Reuters
1.

Pampers

Procter & Gamble, which produces Pampers, is one of the largest clients of an Israeli company that supplies diaper products, Avgol Nonwoven Industries. P&G accounts for nearly half of the company's sales, according to the pro-boycott research group Who Profits. Avgol Nonwoven Industries runs a plant in the Barkan industrial complex, located near the West Bank settlement of Ariel.