Large crowds protest dolphin captivity in French Riviera
In the Mediterranean town of Antibes, protestors are denouncing Marineland, a for-profit animal park where summering Europeans flock to swim with dolphins who have never known the open ocean.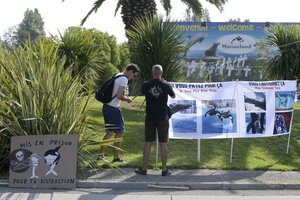 AP Photo/Lionel Cironneau
Several hundred people protested Sunday at a popular marine animal park on the French Riviera, urging it to free the dolphins kept in its pools.
The Marineland park management said the dolphins are a crucial educational tool, and that releasing them into the wild could risk their lives because most were born in captivity and are accustomed to human companionship.
The animal rights activists waved picket signs in English and French at the entrance to the parking lot of the Marineland park in Antibes, trying to persuade visitors to sign petitions or go home.

Recommended:
In Pictures
Dolphins!
Visitors at the park, popular with tourists from around Europe throughout the summer season, can swim with dolphins and see penguins, polar bears and the endangered Steller sea lion.
Among the protesters was Richard O'Barry, a marine activist who trained dolphins for the 1960s TV series "Flipper."
The park's zoological director, Jon Kershaw, told The Associated Press that, "No one is going to say this isn't a business that earns money. But because we earn money, we are able to pay for staff" such as dolphin experts who care for the animals, develop their "cerebral gymnastics" and raise public awareness of their unique abilities.
Kershaw said Marineland stopped capturing dolphins from the wild in 1989 and most of its animals were born in captivity in special reproduction programs.