Amid faltering oil revenues, Saudi Arabia cuts public salaries for the first time
In Saudi Arabia, ministers' salaries will be reduced by 20 percent while lower-ranking civil servants will see wage increases suspended.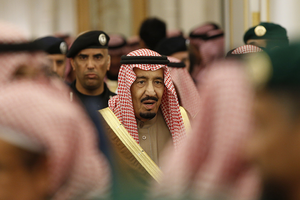 Yoan Valat/AP/File
The Saudi government announced the first ever pay cuts to public sector employees in an attempt to curtail high state spending as oil, the driving force behind the nation's economy, brings in lower revenues.
Falling oil prices have left the government wondering how to grapple with the nearly $100 billion deficit it accrued last year. While the nation hopes to shift away from oil dependence by jumpstarting job creation in the private sector, the nearly immediate effects of a 2014 oil price plunge have forced officials to turn to strict, and fast, cuts.
Some initially thought that the oil bust would be a temporary slump, but its persistence for two years has shown that the shift could be a more permanent market change, leading officials in oil-rich nations to re-evaluate their economic plans.
In Saudi Arabia, where more than two-thirds of workers are employed in the public sector, such cuts could have a drastic impact on the overall economy.
"It's one more economic measure to balance spending. Of course people don't like it, but it's a sign of the times," Jamal Khashoggi, editor of Al-Arab News, told Reuters. "Probably the teachers and many others will be affected by it. It shows why it's important for the private sector and Saudi GDP to diversify."
Officials announced the cuts in a royal decree on state television Monday, detailing a plan to levy a 20 percent cut on ministers' pay while also revoking benefits like state-sponsored telephones. Those on the Shura Council, a group of consultants appointed by the king, will see their stipends decrease by 15 percent.
For other public sector employees, like civil servants, overtime pay and annual leave will see limits.
The government also said it will place a hold on hiring new employees for government jobs for the remainder of the year, which could spell trouble for the some 300,000 new workers entering the job market each year.
When oil prices first began to drop two years ago, Saudi Arabia bowed to the market slump in an attempt to squeeze out the competition. As the producer of one-sixth of the world's oil – some 10 million barrels a day – Saudi officials had the power to exercise influence over the market, but instead fell back on the nation's reserves, hoping to weather the decline and re-emerge as the world's leading producer once prices stabilized again, The Christian Science Monitor previously reported.
"If the Saudis want to send a message to the US oil shale producers or to Vladimir Putin, they have the wherewithal to do that," Tom Kloza, the chief oil analyst at GasBuddy.com, a group that tracks gasoline prices, told the Monitor in 2014. "If they want to bring other producers to their knees, they have the power."
But after two years, Saudi Arabia has been unable to maintain its traditional high government expenditure that allowed many citizens to receive cushy employment options and comfortable lifestyles. The result is an excessive public sector, leading officials to jumpstart projects to build a booming private sector they hope can pick up the slack.  
Information from Reuters was used in this report.
[Editor's note: The original story incorrectly reported Saudi Arabia's oil output per day]