Catholic church to open its archives on Argentina's 'Dirty War'
The Vatican and Argentina's Roman Catholic bishops are set to open church files on Argentina's 'Dirty War'. The files may offer answers to the families of the 'disappeared', and set a precedent for releasing other documents of humanitarian importance.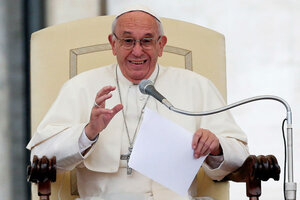 Max Rossi/Reuters
The Vatican and Argentina's Roman Catholic bishops look set to open the church's archives from Argentina's 'Dirty War,' in what they hope will be a step forward for those searching for answers.
In a joint statement on Tuesday, they said that they have finished digitizing the documents, and will begin to make them available to victims of the crackdown, their relatives, and some members of the Catholic church. No date has been set for this opening, which releases 3,000 files. 
For the families of the 'disappeared,' opening the archives is an important step forward, creating an opportunity for an in-depth discussion of the church's role in state-sponsored violence that cost up to 30,000 Argentines their lives. It may also set a precedent for opening other church files before they are typically made public, if the contents are important to the victims of human rights abuses.
In March 1976, a group of military officers overthrew Argentine president Isabel Perón, whose government was struggling to combat economic turmoil and political violence. The three-man military junta that took over engaged in a number of repressive policies, including a seven-year campaign against suspected leftist dissidents. The junta described this violence as a war against "terrorists," but evidence of human rights violations led to increasing popular opposition.
Official government estimates put the number of those who were killed or "disappeared" between 7,600 and 13,000, though human rights groups suspect it could be much higher. Groups like the Mothers of the Plaza de Mayo, predominantly composed of mothers whose children disappeared during the "Dirty War," have been pressing for answers for decades: they demonstrated on the main government square every week during the military dictatorship, and continued the practice until 2006. The group was instrumental in pushing Pope Francis to open the church's archives.
Human rights groups have suggested that senior members of the Roman Catholic church were complicit with the regime. One Argentine former military officer was told that the church had sanctioned "Dirty War" killings in which he was involved, he said in 1995. 
The current Pope himself has been a target of criticism, with some charging that Francis — then the Rev. Jorge Mario Bergoglio and the Jesuit superior in Argentina — did not do enough to prevent the violence. But books published since he became Pope suggest that he helped create a network to save the lives of those targeted for elimination. He was caught, correspondents told the BBC, between "a repressive right-wing regime" and "a wing of his Church leaning toward political activism on the left."
According to the joint statement, the archives are being opened "in the service of truth, justice, and peace." Cardinal Mario Poli, archbishop of Buenos Aires, told the Associated Press, "We're not afraid of the files."
For victims and their families, the document release is a welcome step. Dora Salas, a member of Families of the Disappeared and Held for Political Reasons, who was kidnapped with her partner in 1977, called it the "beginning of a new road." However, "There is a very long road ahead and…there is still a lot missing," she noted.
Most of the 3,000 documents set for release are believed to be letters by ordinary Argentines seeking the church's help in finding 'disappeared' relatives. Officials said that far more documentation is likely in the hands of individual parishes and religious orders. The release of the first batch of documents may spur these organizations to open their files.
Even this limited release is an unprecedented step for the Vatican, however. Typically, most of these documents would never have been made public, and the Vatican archives would have been made available to academics only in 2075. Some hope that this sets a precedent for a quicker and more complete opening of the church's files on issues of humanitarian importance, including other right-wing dictatorships in Latin America.
The World War II-era archives of Pope Pius XII are also of particular interest. Holocaust survivors have been pressing for details of the church's role for decades, and an early release would make the details public while the last survivors are still alive.
The Obama administration made more than 1,000 pages of documents about the US role in Argentina's "Dirty War" available in August, following a request from the Argentine government.
Material from the Associated Press contributed to this report.