In Ethiopia, does staying silent save lives?
Government warns aid workers if they talk to press about atrocities in Somali region, they will lose access.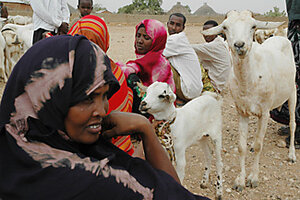 anita powell/ap
Spotting a plume of dust from an approaching vehicle, residents of Gudis village ran to tell their neighbors to hide. Then someone saw the flag on the white Land Cruiser; international aid workers were coming. "We thought you were the military," said one man to an aid worker who later recounted the story.
The residents of Gudis, a village of pastoralists in Ethiopia's Somali region, had not seen an aid worker in the six months since the Ethiopian military sent thousands of troops to the area to put down a renewed surge by a separatist rebel group, the Ogaden National Liberation Front (ONLF). Now the village was eager to share its secrets.
At dusk, accompanied by just one villager, the group drove a few miles beyond the cluster of thatched roofs to four, freshly dug mass graves.
"They begged us to stay," said the aid worker, requesting anonymity.
Indeed, aid workers want to stay, but their presence in places like Gudis comes at a price. As the military campaign winds down in the vast portion of the Somali region known as the Ogaden, international humanitarian groups have been gradually allowed to return, though only in exchange for their silence.
"We have two options: either we come out with a nasty press release tomorrow on protection of human rights, and we will have to leave behind a substantial population still facing atrocities, or we just do our work," the aid worker said.
Those who do talk – and they are few – whisper stories of public executions, arbitrary detentions, rapes, beatings, and torture of civilians by government forces intent on crushing a guerrilla insurgency that draws on sympathetic villagers for support. Others describe equally heinous acts committed by rebel forces against those civilians – often from rival clans – who refuse to help the insurgents, whom the government labels as terrorists.
With journalists prohibited from entering the area under military occupation, most of these allegations are hard to verify, and conflicting versions of the same story are common. For instance, Gudis residents told the aid workers that the 47 young men buried in the mass graves were innocent civilians killed by government forces. An elder from the Abdili subclan that inhabits Gudis said the 47 had been coerced to join a government militia and were slaughtered in a confrontation with the ONLF.
The government denies any wrongdoing by federal troops, including the allegation that soldiers have forced civilians to form militias.
"I can assure you that the government is not in the business of killing people and putting them in mass graves," says government spokesman Bereket Simon. "That is why we fought against the military regime." Mr. Bereket, like Prime Minister Meles Zenawi and many high-ranking members of Ethiopia's government, was himself once an insurgent in the movement that overthrew a socialist military dictatorship in 1991. The former revolutionaries claim to know from experience how brutal military tactics can backfire by galvanizing support for rebels.
The ONLF has been fighting to win greater autonomy for Somali-speakers, about 5 percent of the population, for more than two decades. The simmering conflict flared up again last April when the ONLF attacked a Chinese-run oil exploration facility, killing 74 people.
The United Nations has called for an independent investigation into allegations across the region, but the UN Office of the High Commissioner for Human Rights still has no access; meanwhile, international aid workers say they cannot wait for justice.
In Gudis, and in hundreds of similar villages, food and water are in short supply, leaving the residents to rely mostly on camel's milk for sustenance. Medical supplies ran out long ago.
"You always come down on the same side," said the director of one organization operating in the region. "It's better to keep yourself operational and to do something."
Still, questions remain about whether the food aid is reaching the people who need it – about 750,000, according to a recent US-funded assessment. Amid the conflict, food disbursements have been slow. The World Food Program (WFP) planned to distribute 53,000 metric tons of food aid in the Ogaden in the three months beginning in December. As of last week, less than 10,700 metric tons had reached beneficiaries.
"One of the things we want to make sure about is that the food gets to the people," said Gregory Beals, a spokesman for the UN Office for the Coordination of Humanitarian Affairs, the agency acting as interlocutor for aid efforts in the region. "That may mean that the food will go a little slower than we originally planned."
Yet even at the slow pace, aid workers and clan elders say that regional government officials and military forces still manage to divert supplies away from villages suspected of sympathies with the ONLF.
Some aid workers, increasingly frustrated by the situation, are discreetly speaking out. Many say they quietly and privately inform the head of the UN mission in Ethiopia, Fidele Sarassoro. The US Embassy has also convened a roundtable meeting on the Somali region.
For international staff, these surreptitious confessions may put their mission at risk, but for national staff – some who are from the Somali region – the stakes are even higher. Most refused to cooperate on this article for fear that they might be imprisoned or killed.
In spite of the perceived risk, a few local aid workers are eager to confide.
"It's a relief to speak with you," said one local aid worker. "You hear these things and they weigh on your heart."